Notes & errata
2 July 2010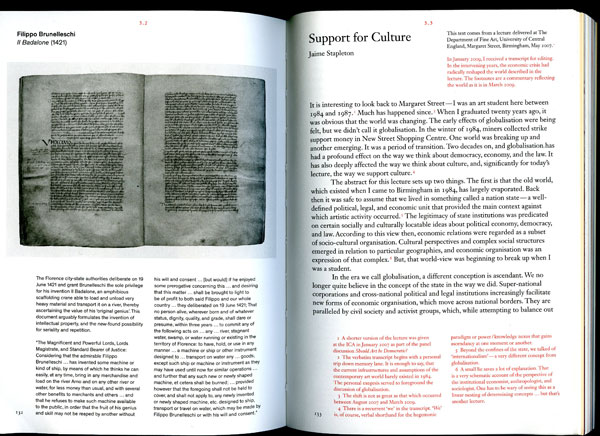 To inaugurate the notes &amp errata section of the site, I present two texts in .pdf format for download. ¹
The first, a more recent text, comes from the book Support Structures by Céline Condorelli. The text is an annotated transcription of a lecture given by Jaime Stapleton to the Department of Fine Art at the University of Central England in May 2007 concerning the idea of "public goods". He illuminates many unspoken assumptions in the debate over a "free-culture" and for that alone his analysis is worth passing along. download
The second, a significantly older text, comes from the journal diacritics spring 1986 issue. It was developed for a lecture by Michel Foucault in March 1967. It is essentially lecture notes, but holds the distinction of being the most intriguing piece of text by Foucault that I have ever read. download
4 July 2010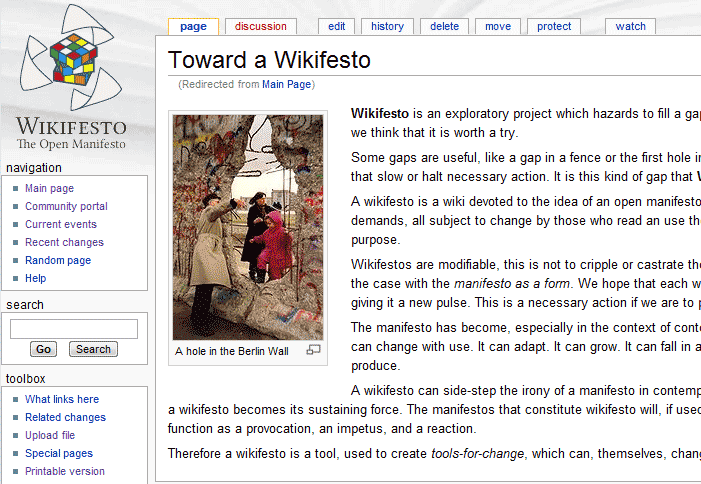 On this Independance Day, I bring you news a brand-new development on the web: the wikifesto. Of couse the idea of a wikifesto is nothing new. A quick search pulls up a handful of references to the term. But as far as I know this is the first full-scale implementation of a wikifesto to date.
I found² it just yesterday. I think it has the potential to change the way we write manifestos.
A wikifesto is a manifesto that can be edited, short-circuiting the authority of the document, but at the same time allowing for an open structure. This seems to be a fair trade-off in that contemporary manifestos are relatively impotent.
So, enjoy! Write a manifesto, (ehem, wikifesto) and have a wonderful Interdepenance Day³.